All developers will get the New Google Play Console on November 2, 2020.
Official release / live date
November 2, 2020
---
About Interface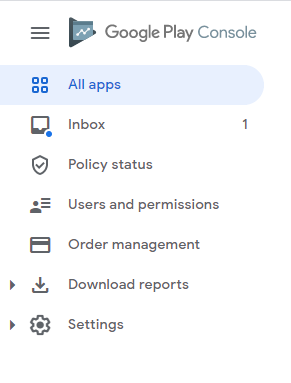 So the very first thing you see when login in new google play console is it's all new material interface that is more appealing.
On the left top you'll see a hamburger menu option to view all available options within the platform.
Here they tried to reveal all the major options and settings in front that earlier hidden inside some parent options in old google play console.
---
New Google Play Console's Different Menu Options
---
All Apps Menu Option

---
So here in All Apps Menu Option, You'll see brief details about your published, non-published, drafts, suspended, terminated, rejected apps.
Upon clicking on any of the apps listed here you'll see a new page opened for that particular app options, we'll also be covering that further.
Apart from these details you'll also see a Create app button that is basically used to create a new draft for publishing a new app, we'll see this in full details further.
One more new change that has been added in new google play console is – Update status feature available as new column within app list.

---
Inbox Menu Option

---
In Inbox option you'll get all new updates and notification directly in one place, and if you want you can request to receive the notifications directly in your registered email id.
When you close a notification it goes to archived from messages and in case you want to check it again in future you can view it from archived tab.
To be continued…
---
Bonus Articles